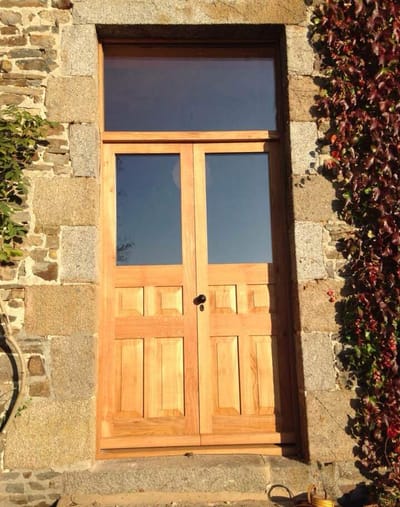 L'année 1986 fut un moment spécial dans la vie de Russell Cole ; le début de 4 années d'apprentissage en menuiserie dans une petite ville au cœur du comté du West Sussex en Angleterre.
J'ai eu beaucoup de chance d'apprendre et d'être formé par des artisans talentueux et professionnels qui ont alimenté ma passion et m'ont permis de commencer la carrière de toute une vie.
Pendant l'essor immobilier et plus spécifiquement les conversions de granges, j'ai non seulement appris rapidement l'importance d'accomplir un travail de qualité associé à des finitions nettes et précises, mais aussi la nécessité de penser de façon créative et d'appliquer mes compétences à résoudre des problèmes compliqués.
Après 5 années passées dans le Sussex, je suis parti travailler à Londres pour une petite compagnie artistique impliquée dans le design et la construction de décors, la réalisation de modèles et effets spéciaux et la direction artistique. Ce chemin alternatif m'a permis de maîtriser une large variété de compétences. Cette expérience m'a fait prendre conscience que rien n'est impossible, ceci étant à ce jour fondamental à mon idéologie.
La vie a fait que je suis retourné vivre dans la campagne du Sussex où j'ai crée ma propre entreprise de menuiserie. J'ai eu le plaisir de diriger de nombreux projets de leur conception à leur finition, autant pour des clients privés que pour des maîtres d'oeuvre et des compagnies du bâtiment.
Depuis, je me suis installé en France, dans la belle campagne Normande où je continue à appliquer la même fascination et le même enthousiasme à mon travail.
Désormais, je crée de la menuiserie en chêne sur mesure : portes, fenêtres, cuisines, meubles, escaliers, etc...Je peux également reproduire des éléments de menuiserie tels que moulures, plinthes, chambranles, doublure de portes, portes internes, baguettes décoratives, cimaises , etc... qui peuvent être agencées par des équipes de poseurs. Tous ces éléments sont finis à la main, une finition grain 320.
J'offre également un service sur mesure que ce soit dans la rénovation de bâtiments ou en construction nouvelle.
Back in 1986, a four-year apprenticeship in a small town in the heart of West Sussex was the start of something special for Russell Cole. Having the good fortune to learn from talented and dedicated craftsman would fuel my passion and be the start of a lifelong career.
During the boom in barn conversions I quickly learnt not only the importance of creating quality work to a clean finish, but also the need for creative thinking and powerful problem-solving skills.
After 5 years in Sussex I moved to London to work for a small art company involved in set design and construction, model making, special effects and art direction. This alternative path allowed me to master a wide variety of new skills and mediums, and was a reminder that everything is possible — something which remains fundamental to my ideology.
Life's journey eventually took me back to the Sussex countryside where I founded my own successful joinery business. I had the pleasure of running many projects from start to finish, both for private clients or directly for site agents and building companies.
Since then I have made the move from the UK to beautiful Normandy, I continue to find my career a delight. I'm now creating bespoke oak joinery, doors and windows, kitchens, wardrobes, staircases, mouldings, Existing mouldings can be copied and run out for your own team of fitters, along with skirtings, architraves, door linings, internal doors, dado rails, picture rails, cappings, plynths, aprons and trims. Everything that leaves the workshop is finished by hand to a 320 grit finish.
A traditional bespoke service is also available, be it new build or renovation project.